Mini Militia Mod Apk – Doodle Army 2 v5.3.7
| | |
| --- | --- |
| Name | Mini Militia Mod Apk – Doodle Army 2 v5.3.7 |
| Updated | 14 Dec 2021 |
| Category | Action > Games |
| Rate | 4.8/5 |
| Requires Android | 4.4 and up |
| Developer | Miniclip.com |
| Google Play | com.appsomniacs.da2 |
Mini Militia Mod Apk is an Action Android game with 2D graphics that you can play multiplayer with your friend even when you don't have internet connection by Hotspot. Mini Militia – Doodle Army 2 is from popular Miniclip studio with more than 100 Millions installed from google play and score of 4.1 from users.
Table of Contents
Introduction and review of Mini Militia Mod Apk
Exciting action game Mini Militia – Doodle Army 2 known as Mini Militia Mod Apk is a fun and exciting action game developed by the Appsomniacs game development studio. You can play this game both offline and online (up to 6 people). The storyline of the game is that you are as a soldier with different weapon in a 2D battlefield and must fight other players with your guns and win the fight.
In Mini Militia Mod Apk there is a section called multiplayer in which you can experience a beautiful and action gameplay offline through a Wi-Fi connection (Hotspot) with your close friends!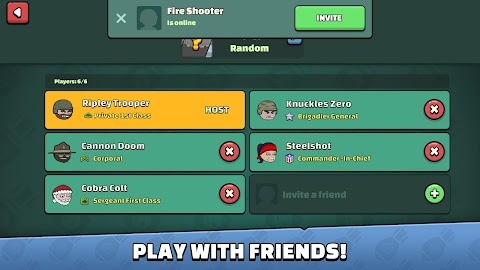 How to Play Mini Militia Apk
in your first game the training section begins. The sergeant teaches you how to shoot with different weapons, how to move and fly in the sky with the help of special shoes. At the top of the page you will see two lines of your health and fuel level. If you run out of health you will fail and will be responsive again after a few seconds Also if you run out of fuel, you will no longer be able to fly and will have to wait for it to refuel.
If you approach the enemy you can inflict significant damage by punching. Since the whole map is not in your field of view if you taking shot by enemy, game will show you a red arrow to direction of shooting so that you can find the enemy. You can also increase the field of view by increasing and decreasing the zoom of the weapon, snipers will give you the maximum field of view. You can also bring a limited number of grenades that are very useful and if thrown in the right place, they will directly destroy the enemy.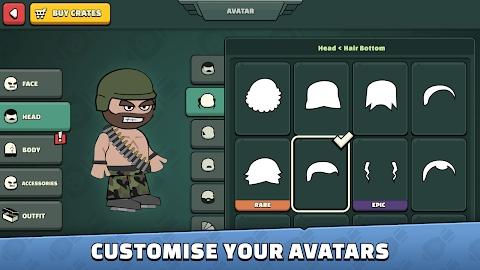 Different modes and style
The online section has only two modes:
The first mode is Free For All: which puts 6 players on the map and they have to collect points for themselves; After each death, the players are responsive again, and in the end, the person with the highest number of kills wins.
The second mode is Team Deathmatch : 6 players are divided into three-person teams and the team with the most points wins. In both cases the time for the competition will be 4 minutes and 25 seconds. If you win you will receive special boxes that contain items such as weapons, skins etc also your XP will be increse and as the level (xp) goes up new map will be unlocked.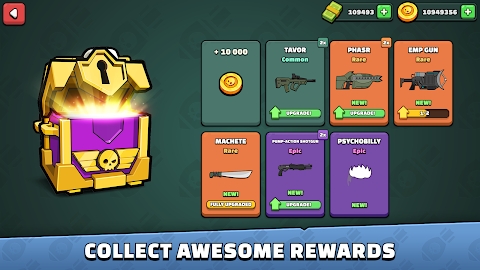 Maps and Guns
Mini Militia Mod Apk has many maps that make players never get tired of playing the game. There are various maps in the game that some of them are even suitable for special weapons and designed for them. Most game maps are active and have a player but the most popular maps are Mini Outpost, Crossfire and Junkyard.
Each gun in Mini Militia has special features that you might use in the best situation, for example SMG is for close fight and Snipers are for long range fight. Some of the guns are : pistols, SMS, Sniper Rifle, Shotgun and much more that would be available by upgrading your level. also you can customize your guns by different items such scooped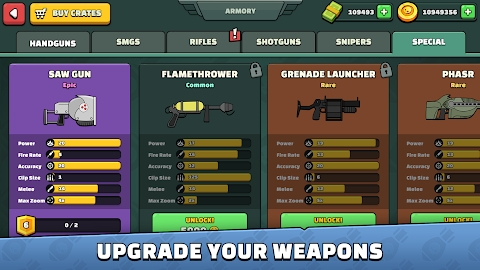 Download Mini Militia Mod Apk latest version
If you like to enjoy your time with your friend, a good choice is to play a multiplayer game such as Amoungus and Mini Militia Mod Apk. This game has been installed more than 100 billions times by Android users around the world. Enjoy playing an action multiplayer game with Mini Militia – Doodle Army 2.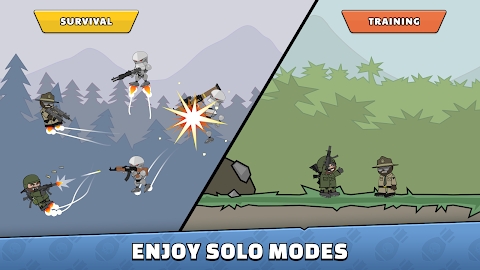 FAQ
is mini militia offline ?
Yes, you can Play mini militia offline on a Hotspot with your friend.
is mini militia banned in India ?
No, it's not banned in India and still available.
How to hack mini militia ?
The mod version of mini militia is available in the download section you just need to download and install it on your phone.
Whats New:
– In-game Friends is here! Now you can add players as friends and play custom games together!
Note – just make sure you and your friends are on this latest app version, only then you could find them and play together
– You can also search for other players by nickname or ID, and add them as friends directly in the game regardless of your account type (including guests)
– In addition, weve made some bug fixes related to Friends.